Home

/

Mobile Base With Casters
Mobile Base With Casters
MOBILE BASE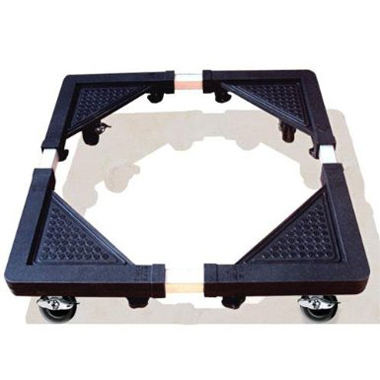 Smooth and firm, adjustable dimension and convenient movement
Material PA66,rubber universal wheels, metal zinc-plating tube.
Quality: Ultra-strong Rigidness, Press Resistance and Anti-corrosion
Size Adjustable: Can be square or rectangle
Perfect for portable washing machine, dryer, Refrigerator, Cabinet and Air Conditioner

Durable , firm, adjustable dimension and convenient movement

Maintaining ventilation of the bottom, Anti-rust and easy to be moved

Ultra-strong rigidness, press resistance and anti-corrosion
Min Length: 18.5*18.5inch /47*47cm
Max Length : 25.6 * 25.6 inch / 65*65 cm
Max Load : 280lbs / 128 kg
Height: 3.93/10cm
There are locks on 4 wheels, "ON/OFF" marked on each of them. If you put on a working washing machine , please lock the four wheels to fix, preventing from moving.
Installation is easy!
free of tools, only take five minutes to install.

​

A scale printed on the package- cutting off the scale and measuring the distance between four bases at the bottom

​

Pulling out equally four corners centered on red line and tightening 8 screws.
$33.84
Shipping + $14.98
Shipping Area: 48 Continental States in US and All Canadian Provinces
Customers Who Bought This Item Also Bought