Home

/

Sonya Soy Milk Maker SYA-19A
Sonya Soy Milk Maker SYA-19A
SYA-19A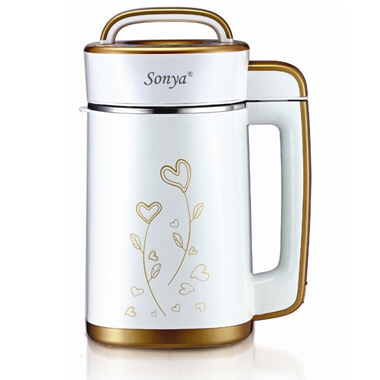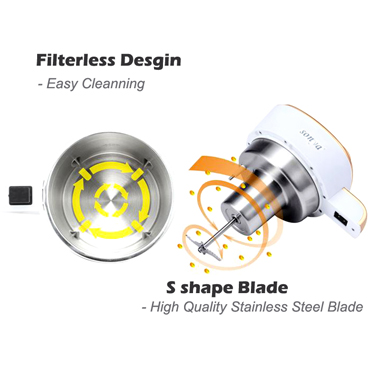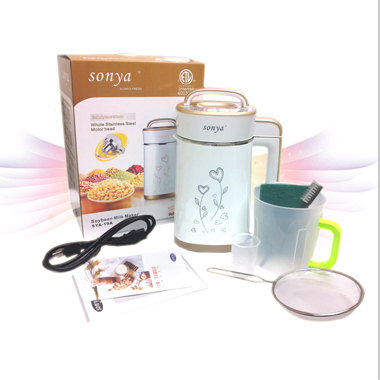 OUT OF STOCK
2013 New Multifunctional Sonya Soy Milk Maker (SYA-19A) Arrives North America
Not only traditional soy milk maker, but six in one maker: dry bean, soaked bean, nutrient paste, mung/red bean, and blending etc, most powerful machine in the market. New Soy milk Maker Model SYA-19A adopts latest technology which made with best quality 304 stainless steel inside.
Heatproof design, container with double layers- great updated from the last model
ETL and CETL certified--Offers you uncompromised safety and peace of mind.
Makes all different types of soy milk, multi-grain milk, fruit juices, milkshake, paste, almond milk,etc.
Perfect Grind Technology makes perfect milks
Revolutionary bottom-heater technology – less burning and sticking
New filter-less design – quick and easy to clean
Easy to use - one-touch automatic programming, ready in 18-30 minutes
Save money on your grocery bill
100% soy milk and juice - No more preservatives, chemicals, additives
​
Benefits of Soy Bean
Soy protein products can be good substitutes for animal products because, unlike some other beans, soy offers a 'complete' protein profile. Soy milk has about the same amount of protein as cow's milk. Unlike cow's milk, it has little saturated fat, low sugar and no cholesterol . It's a healthier way gradually getting into a more vegetarian lifestyles.
Benefits of Multi-grain
Like Oat, Barley, Brown Rice, Millet, Maize, and more, consumption of multi-grains help decrease in risk factors for cardiovascular disease, pre-preventing from the clinical problems like hypertension, diabetes, and obesity. Lot of natural ingredients have healthy cholesterl-lowering properties, significant of Dietary fibre, Protein,Iron, Magesium, Vitamins, and with low fats and calories.
Benefits of Mung bean
You may call them as "green pearls". It helps body in detoxification, thirst-quenching, control weight, anti-inflammatory, antioxidant. In the summer, It cools your body naturally. In the winter, It relieve Inflammation after you eat too much holiday turkeys, alcohol , rich food like pizzas, fries, BBQ wings or family banquet.
Extra Blending Function for Fruit smoothie and your baby food
Fruit smoothies are scrumptious and satisfying. All it takes is a scoop of thick-and-creamy peanut butter, and you've got yourself a protein-packed snack. Or now you may consider to add more energy or more nutrients by adding your Iso protein, 6-pack muscle skimmer, or blending with ices cubes, flavoured ingredients, now your are on your own home-made styles. Blending your baby's food on healthier way, adding spinach, carrots, celery, beets, rice paste, oats, fish and more.
Just a quick view of more benefits creating from SONYA Soy Milk Maker
Oat milk-- smooth skins
Black Sesame seeds peanuts milk --- nourish hair
Hazelnut milk-- ease fatigue, relieve pressure
Rice milk-- moisturize stomach
Walnut milk-- nourish the brain
Tropical Yogurt Smoothie- boost energy
Mung bean paste--detoxification, thirst-quenching, control weight
Barley Lily Milk-- whitening skins, remove darkness
Jasmine tea milk-- body cleansing & degreasing
"SONYA, ALWAYS FRESH!" That's absolutely true ! Believing Sonya, Embracing brighter and healthier Life from today !
Brand: Sonya
Model: SYA-19A
Color: White&Golden
Capacity: 1.3L
Design: Filter-less, heater at the bottom, whole stainless steel, double layers container
6 Functions: Soy milk, nutrient paste,cereal milk, mung/red bean milk, blending
Power: 800W
Voltage: 110V
Product Size(W*D*H): 20* 18* 33 CM 8 * 7 * 13 INCHS
Product Weight: 2.5 KG/5.5 LBS
Package Size(W*D*H)::24 * 26* 35 CM/10* 9 *15 INCHS
Package Weight: 3 KG/6.6LBS
Accessories: measuring cup, scouring pad, brush, sifter , power cord, plastic soaking jug
English and Chinese Recipe books
90 days Stress Free Guarantee& One year warranty
Soy Milk Maker Operating Instructions:
Fill up the measuring cup with dry soybeans, wash beans thoroughly and rinse with fresh water
(If choose "soaked bean" cycle, need to soak soybeans for 4-8 hours at room temperature)
Fill the container with cold water between the MAX & MIN marks
Place the dry/soaked soybeans directly into the container
Position the machine head in the container
Attach the power cord to the Sonya Soy Milk Maker. The machine will beep and all indicating lights will be flashing
Press the CHOOSE button to select your preferred function
The process takes about 25-35 minutes. Multiple audio beeps with flashing power light indicate that the cycle is completed
Unplug the power cord from the wall outlet first and then from the Sonya Soy Milk Maker
Lift the machine head from the container and pour soy milk on the mesh filter
Now fresh soy milk is ready to serve
Clean the container, blade and other accessories.
IMPORTANT: Be careful to clean the soy milk maker properly, do not let any water get into sockets! do not immerse product into water. Please hold by hands and clean it carefully.
$84.99
Free Shipping
Shipping Area: 48 Continental States in US and All Canadian Provinces
Customers Who Bought This Item Also Bought