Home

/

Sonya Compact Dryer (3.75 Cu.ft)
Sonya Compact Dryer (3.75 Cu.ft)
SYD-60E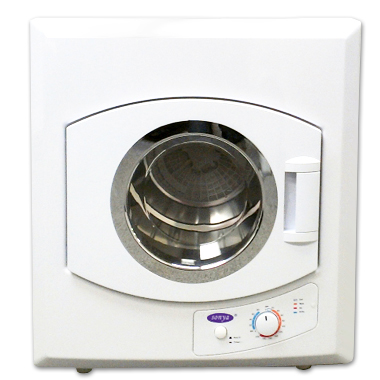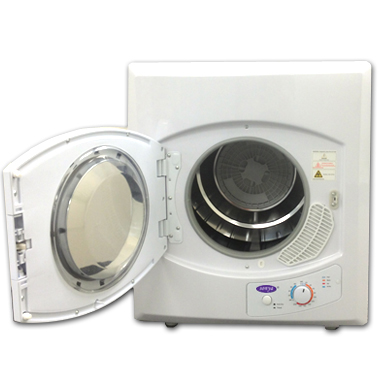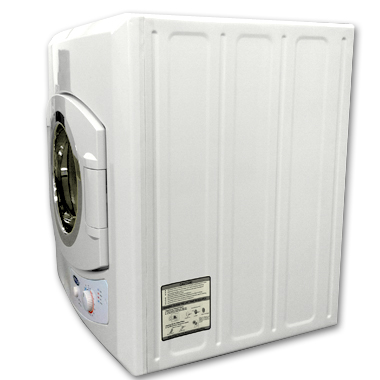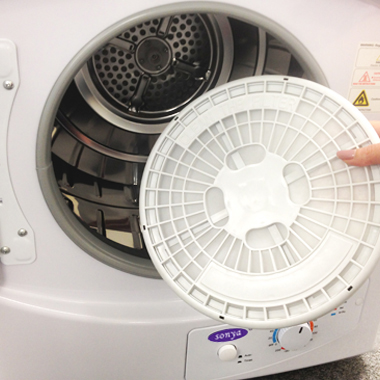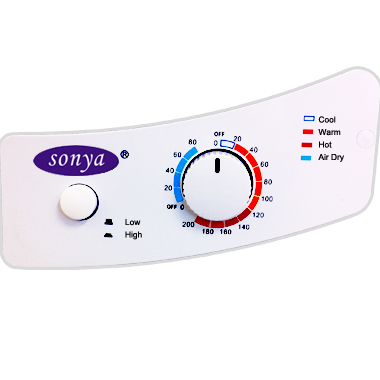 Out of stock and discontinued.
"Keep your clothes clean and dry using Sonya 6KG apartment-sized dryer.The built-in see through window allows you to easily monitor your clothes load while its drying to make sure everything is going smoothly.Durable stainless steel tumble allows for quick and easy drying."
Best Uses: Bedding / Sheets, Clothes, Delicates, Efficiency / Studio Living, Living Space Without dryer, like apartment RV, boat, trailer etc.
Brand: Sonya
Model: SYD-60E (Apartment/Compact Size)
Voltage: 110-120V/60H
Rated Input: 1500W
6 KG/ 13.2 Lbs/3.75Cu.Ft capacity
Color : White
See-through window
Stainless steel tumble
4 dryer temperature selections: Warm / Hot / Cool / Air Dry
1 heating selector: High / Low
Wall mounting kit included
Removable lint filter included
1 year warranty
Country of Origin: China
Drying Time Reference
Drying Capacity Drying Times
5 Lbs High Heat 30 minutes / Low Heat 55 minutes
7-8 Lbs High Heat 60 minutes / Low Heat 110 minutes
9-10 Lbs Approx. 120 minutes
12-13 Lbs Approx. 200 minutes
Unit Dimensions (W * D * H): 23.6 * 21.2 * 26 INCH / 60 * 54 * 66 CM

Master Carton Dimensions (W * D * H): 23.5 * 26 * 30 INCH / 650 * 60 * 76 CM

Unit Weight:48.4 LBS / 22 KG

Master Carton Weight: 54 LBS / 24 KG
Sonya Compact Dryer - Exhausting Pipe Installation
Option #1: NO VENTING NECESSARY if the dryer is placed near windows or
at indoor environment with good air ventilation.
Option #2: Use FOUR VENTING SECTIONS provided in the package,
connect them upwards and let air go out from the ventilation fans.
Option #3 : INDOOR VENTING KIT (include 1 pipe and 1 water-collecting
barrel) is recommended if the room is over-moist. You may find
them in Home Depot or RONA.
FAQs:
1.Does this dryer have to be vented outside?
No.It's indoor design. Many clients put this mini dryer in closet or living room, and there is only invisible air vented out. So it won't cause much moisture or wet in your room.Details of venting, please check the installation guide above or check your user manual.
2. Does this dryer have standard plug?
This Sonya dryer is designed in north america standard voltage 110-120V/60Hz with standard plug. It is required to be plugged into a three pin socket. Although it takes longer drying time than regular-sized dryer, clothes come out very soft and mostly wrinkle free.
3.What do you mean by 13.2lbs / 6 KG capacity? How many clothes does it fit in.
13.2lbs/6 kg means the weight of dry clothes.It s perfectly designed for small loads, like 4-6 pairs of regular-sized jeans, or 6-10 T-shirts, or 3-4 bath towels, or 1 queen-sized bed sheet. Please do not dry bulky and heavy stuff.
4. Where is the lint filter/trap ? and how frequently should I clean or change it?
The lint filter is removable which is attached inside of stainless steel drum. It is recommend to clean every time after using.Please remove the grey plastic filter by pulling outward with fingers, and then open it apart into 3 pieces. The paper exhaust filter is recommended to change after 3 months using.
5.What's the warranty?
Sonya dryer has 1 year warranty. Under warranty, our customer service will support you with instructions and parts supply.
6. Any other precautions and advices I need to know?
a) to avoid shaking and noise, please balance the dryer on the ground (4 feet are adjustable at the bottom of dryer) or stabilize it on the wall
b) plug the power cord firmly and close the door firmly
c) clothes must be washed and spinned completely before getting into dryer
d) do not over-load
★ If you have any question, please feel free to e-mail to our customer service center. Your valuable feedback will help other buyers and us know more! We appreciate your questions VERY MUCH! ★
$345.99
Free Shipping
Shipping Area: 48 Continental States in US and All Canadian Provinces
Customers Who Bought This Item Also Bought
Customers Who Viewed This Item Also Viewed